2016–2017 IRP Webinar Series
IRP places a high priority on making knowledge and information available to interested parties. In addition to our on-campus seminar series, IRP offers regular online webinars on current research on poverty and social inequality in the United States. Register for upcoming webinars or watch recordings of past webinars.
---

September 7, 2016, 1:00–2:00pm CDT
Health and Economic Mobility
Featuring Rourke O'Brien and Atheen Venkataramani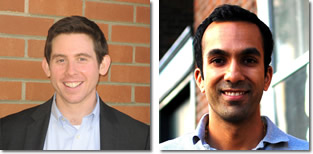 Register Now | Add to Calendar (iCal file)
New evidence suggests that rates of intergenerational economic mobility—a measure of economic opportunity—vary dramatically across US counties. How might inequality of opportunity influence individual and population health? And to what extent does health itself serve as a determinant of intergenerational economic mobility? In this webinar, Rourke O'Brien (La Follette School of Public Affairs at UW–Madison) and Atheendar Venkataramani (Massachusetts General Hospital and Harvard Medical School) will examine the interplay between health and economic opportunity and discuss the implications of this nexus for public policy.
---
Previous IRP Webinars: 2015–2016 | 2014–2015 | 2013–2014 | 2012–2013