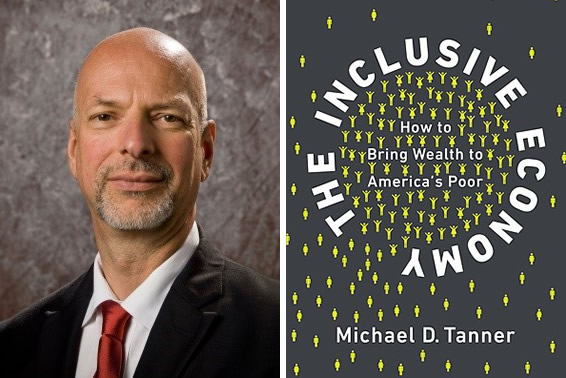 April 15 2019
4:00 to 5:30 p.m.
Orchard View Room, Room 3280, Discovery Building
330 N. Orchard St. Madison, WI 53715
A reception will follow the lecture
At this event, Michael Tanner will discuss his new book, The Inclusive Economy: How to Bring Wealth to America's Poor, that proposes a path toward eliminating U.S. poverty.
Respondent: Timothy Smeeding, Lee Rainwater Distinguished Professor of Public Affairs and Economics.
The talk will take place on April 15 from 4:00 to 5:30 p.m. in the Discovery Building on the UW–Madison campus.
Tanner's plan moves beyond conservative and liberal antipoverty debates to embrace a plan that combines social justice with limited government. He posits that economic growth lifts more people out of poverty than any possible amount of redistribution could.
His plan includes reforming the criminal justice system; limiting the War on Drugs; reducing the cost of housing; reforming education to give parents more control and choice; and making it easier to bank, save, borrow, and invest.
Tanner is a senior fellow with the Cato Institute in Washington, D.C., where he heads research on a variety of domestic policy issues, with an emphasis on social welfare, health care, and retirement.
This event is cosponsored by the Institute for Research on Poverty, the Center for Research on the Wisconsin Economy, and the Tommy G. Thompson Center on Public Leadership.