Donna Friedsam
Distinguished Researcher
608-265-9377
University of Wisconsin–Madison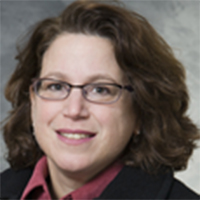 Ms. Friedsam has worked extensively on access to and financing of health care and the organization of delivery systems. She consults widely in the public and private sectors on state government programs and on reform initiatives.
Ms. Friedsam leads IRP's Medicaid Evaluation, Research, and Technical Assistance (MERTA) programming, which includes a team of faculty and researchers evaluating Wisconsin's Medicaid and BadgerCare health coverage programs (Reports & Publications).  Previously, starting in 2001, Ms. Friedsam had founded the health policy group within the University of Wisconsin Population Health Institute, where she established the UW's Evidence-Based Health Policy Project. Between 2013–2019, Ms. Friedsam also developed and oversaw Covering Wisconsin, Wisconsin's ACA Navigator entity, in affiliation with UW Extension and the School of Human Ecology.
Ms. Friedsam served previously as Executive Director of the Wisconsin Primary Health Care Association, Director of a managed care demonstration project, and manager of several projects supported by the Robert Wood Johnson Foundation, the federal Health Resources and Services Administration, and the Centers for Medicare and Medicaid Services. Ms. Friedsam holds a masters degree in public health policy and administration from the University of Michigan in Ann Arbor.
Selected Publications
Saloner B, Dague L, Friedsam D, et al. Access to Care Among Individuals Who Experienced Medicaid Lockouts After Premium Nonpayment. JAMA Netw Open. 2(11), 2019.
Friedsam D. Does the Rural-Urban Frame Help Explain Health Status? Health Affairs blog, April 30, 2018.
Friedsam D. What's Next For The Health Insurance Landscape In Wisconsin? WisContext. April 5, 2018.
Friedsam D. Future of ACA Uncertain, But Coverage Intact for 2017. WisContext. November 28, 2016.
Friedsam D. Major Topics for Cross-Cutting Research: Effects of Medicaid Policy Variation. The Brookings Institution, Conference on Evolving a Research Strategy for the Affordable Care Act. Washington DC. October 23, 2014.
Friedsam D. Different Parts Of The Same Elephant: Medicaid Research And State Expansion Decisions. Health Affairs Blog. September 19, 2014.
Friedsam D., Kaplan T., Eskrich S. State-Level Field Network Study of the Implementation of the Affordable Care Act: Wisconsin. Rockefeller Institute of Government and the Brookings Institution. August 2014.
Burns ME, Dague L, DeLeire T, Dorsch M, Friedsam D, Leininger LJ, Palmucci G, Schmelzer J, Voskuil K. The Effects of Expanding Public Insurance to Rural Low-Income Childless Adults. Health Services Research. 2014;49(6), Part II; 2172-2187.
Dague L, DeLeire T, Friedsam D, Leininger L, Meier S, Voskuil K. "What Fraction of Medicaid Enrollees Have Private Insurance at Time of Enrollment?" Estimates from Administrative Data. Inquiry 51.
Leininger L, Friedsam D, Voskuil K, DeLeire T. 2014. "Predicting High-Need Cases among New Medicaid Enrollees." Am J Manag Care. 20(9):e399-e407.
DeLeire T, Dague L, Leininger L, Voskuil K, Friedsam D. 2013. Wisconsin Experience Indicates That Expanding Public Insurance To Low-Income Childless Adults Has Health Care Impacts. Health Affairs 32(6):1037-1045.
Friedsam D. Wisconsin's Health Care Quality: Among the Best…and Among the Worst. UW Population Health Institute Issue Brief. Vol 11(2). Nov 2012.
Feder E, Friedsam D. How Many Doctors Will Wisconsin Need? What Should Wisconsin's Medical Schools Be Doing? UW Population Health Institute Issue Brief. Vol 11(1). Nov 2012.
DeLeire T, Leininger L, Dague L, Mok S, Friedsam D. 2012. Wisconsin's Experience with Medicaid Auto-Enrollment: Lessons for Other States. Medicare & Medicaid Research Review. Vol 2 (2): E1-E20.
Dague L, DeLeire T, Friedsam D, et al. Estimates of Crowd-Out from a Public Health Insurance Expansion Using Administrative Data. NBER Working Paper No. 17009. Issued in May 2011.
Leininger L, Friedsam, D, et al. Wisconsin's BadgerCare Plus Reform: Impact on Low-Income Families' Enrollment and Retention in Public Coverage. Health Services Research Vol 46(1): 336–347, February 2011.