Rebecca Blank
Chancellor Emerita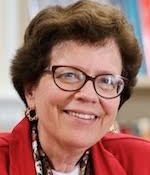 In her five years as leader of UW–Madison, Chancellor Blank worked to improve access and affordability, build educational excellence, and nourish innovation and discovery. An internationally respected economist, she worked in three presidential administrations and served as faculty at Princeton, Northwestern, and the University of Michigan, where she was dean of the Ford School of Public Policy.
IRP Making A Difference Over 50 Years, Message from Chancellor Rebecca M. Blank
This message draws from the keynote address made by Chancellor Rebecca M. Blank on the occasion of IRP's 50th anniversary, at the 2016 Summer Research Workshop, and appeared in Focus 33(3).