Anita Mukherjee
Assistant Professor
Michael E. Lehman Distinguished Chair for Inspired Learning in Business
Department of Risk and Insurance
Wisconsin School of Business, University of Wisconsin–Madison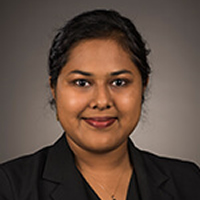 Anita Mukherjee is an Assistant Professor in the Department of Risk and Insurance, Wisconsin School of Business, at the University of Wisconsin–Madison.
For the IRP Scholar-in-Residence Program she chose to visit the Economic Self-Sufficiency Policy Research Institute, UCI School of Social Sciences.
Mukherjee earned her Ph.D. in Applied Economics from the Wharton School, University of Pennsylvania, in 2014.
Her research interests are within health, aging, and crime. A unifying theme in her work is a focus on poverty and vulnerable populations. University of California, Irvine.
Anita Mukherjee's Research Interests
Applied microeconomics (health, aging, and crime)
Aging research includes social security, insurance, disability, financial security
Determinants of risky behaviors (e.g., drug use and opioid addiction)
Focus on vulnerable populations