Emma Flanagan
Graduate Research Fellow
School of Human Ecology - Human Development and Family Studies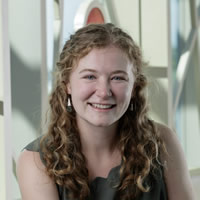 Emma is a MS/PhD student in the Human Development and Family Studies department in the School of Human Ecology. She is interested in housing policy and interventions that create access to stable housing. She seeks to understand how social services and government can better serve the needs of low-income families given the barriers to housing that exist. She is currently working with Dr. Sarah Halpern-Meekin on the Baby's First Years project, which seeks to understand the relationship between family financial situations and children's well-being. Emma hopes to conduct research that will inform policymakers and community members alike.
Emma attended Saint Louis University and received a Bachelor of Science in Psychology with minors in Biology, Public Health, and Urban Poverty Studies. During her time at SLU, she worked as a lab assistant with the Readers 2 Leaders program, a peer-mentoring, reading partnership designed to create connections and empower students. Emma's experience with data collection and interpretation in the Readers 2 Leaders program has provided a base of research skills she is further developing at UW.
Prior to beginning her MS/PhD at SoHE, Emma served as an AmeriCorps member in Missoula, Montana with Family Promise – Missoula Interfaith Collaborative. She worked as a housing navigator, problem solving and developing relationships with families experiencing homelessness. She is passionate about using the skills and knowledge she gained in this experience to shape her research approach in graduate school.