Michael R. Fisher Jr.
Assistant Professor
Department of African American Studies
San José State University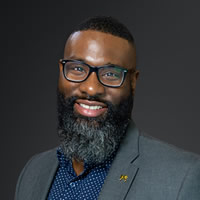 Michael R. Fisher Jr. is Assistant Professor of African American Studies and a Faculty Affiliate at the Institute for Metropolitan Studies at San José State University. He is also an Affiliate Scholar at the Metropolitan Policy Center at American University and a Research Fellow at the Institute for Gender Studies at the University of South Africa.
He specializes in poverty, race, and inequality and housing and urban policy. His first book—Black Community Building: Public Housing Reform and the Promise of an Alternative Model to Mixed Income Neighborhoods (under contract with Georgetown University Press)—reorients the debate on public housing reform by arguing that mixed-income housing creation as market-driven urban policy must be abandoned given its track record. It proposes an alternative conceptual model to urban redevelopment in high-poverty neighborhoods.
Fisher is visiting Poverty Solutions at the University of Michigan.
Twitter: @mrfisherjr
Facebook: @mrfisherjr
Instagram: mrfisherjr