Almost 11 percent (10.8%) of the Wisconsin population was poor in 2016, as measured by the Wisconsin Poverty Measure (WPM) developed by IRP researchers. The map below shows the counties in the state where the poverty rate was higher, lower, or similar to the statewide average.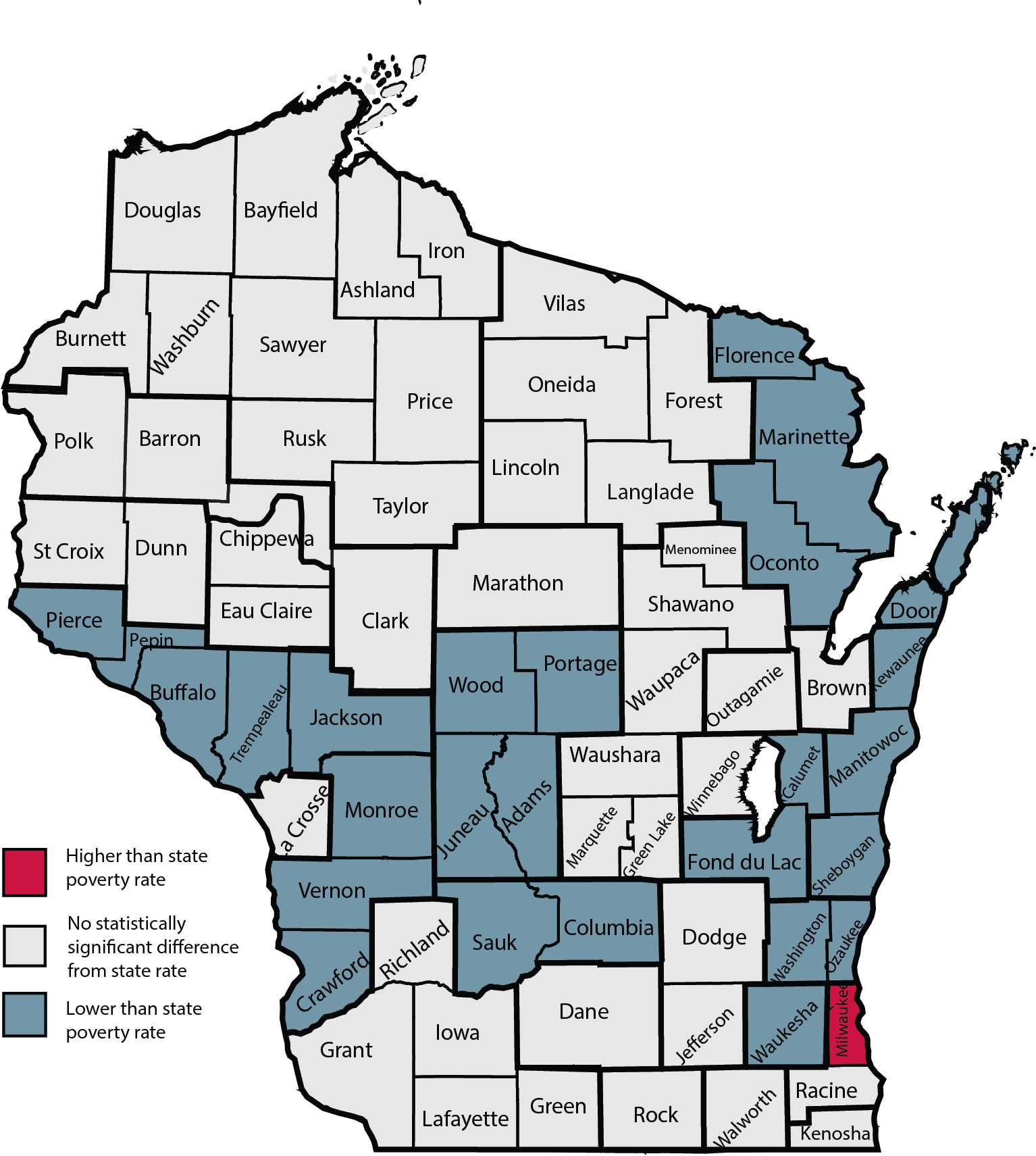 Map. 2016 WPM county-level poverty rates vary substantially in relation to the overall state rate of 10.8%.
Source: Researchers' tabulations using 2008–2016 American Community Survey data.
Wisconsin Poverty Measure Key Takeaways
The Wisconsin poverty rate for the overall population as measured by the WPM increased to 10.8 percent in 2016, up from 9.7 percent in 2015.
Child poverty under the WPM rose as well, to 12.0 percent in 2016, which was almost 5 percentage points below the official poverty measure's rate for Wisconsin children of 16.9 percent.
Elderly poverty also increased, from 7.8 percent to 9.0 percent in 2016 using the WPM.
Although safety net benefits, especially Supplemental Nutrition Assistance Program or SNAP (called FoodShare in Wisconsin) and refundable tax credits such as the Earned Income Tax Credit or EITC, continued to play an important role in poverty reduction, federal and state changes to SNAP, payroll taxes, medical expenses, and work-related expenses reduced these positive effects in 2016.
As shown in the map below, Milwaukee County (17.5% WPM poverty rate) was the only place with a rate significantly higher than the state average of 10.8 percent.
Meanwhile, 26 of 72 total counties have poverty rates that are significantly lower than the statewide rate, including the counties of Sheboygan (4.1%, the lowest), Fond du Lac and Calumet (4.9%), Waukesha (5.4%), and three sets of smaller counties cutting across the middle of the state with rates at or below 8.6 percent.
Poverty Rates by County or Multicounty Area
A significant strength of the WPM is its ability to portray poverty across regions within the state. In 2016, researchers found overall statewide poverty rates hide substantial variations in poverty across Wisconsin regions, as shown in Table 1.
Researchers' categorization of substate areas includes 13 large counties and 15 multicounty areas that encompass the remaining areas of the state. While some of the multicounty areas comprise only two counties (e.g., Sauk and Columbia), others require as many as 10 of the more rural counties to reach a sufficient sample size to obtain reliable estimates.
Table 1. Wisconsin WPM poverty rates by county or multicounty area and difference from state average, 2018
Wisconsin Poverty Measure (%)
Difference from State Average
County
Milwaukee
17.5
Higher
Dane (Madison)
10.8
NS
Waukesha
5.4
Lower
Brown (Green Bay)
10.0
NS
Racine
12.2
Higher
Kenosha
13.3
NS
Rock (Janesville)
11.4
NS
Marathon (Wausau)
11.7
NS
Sheboygan
4.1
Lower
La Crosse
13.8
NS
Outagamie (Appleton)
7.6
NS
Winnebago (Oshkosh)
10.9
NS
Walworth (Whitewater)
9.6
NS
Multi-County Area
Washington & Ozaukee (West Bend)
6.5
Lower
Sauk & Columbia (Baraboo)
7.6
Lower
Dodge & Jefferson
9.7
NS
Manitowoc & Kewaunee
6.8
Lower
Fond du Lac & Calumet
4.9
Lower
St. Croix & Dunn
14.0
NS
Eau Claire & Chippewa (South)
11.1
NS
Barron, Polk, Clark & Chippewa (North)
11.2
NS
Marinette, Oconto, Door & Florence
7.5
Lower
Central Sands—Wood, Portage, Juneau & Adams
8.5
Lower
Oneida, Lincoln, Vilas, Langlade & Forest
9.8
NS
Grant, Green, Iowa, Richland & Lafayette
10.8
NS
East Central Wisconsin
11.9
NS
West Central Wisconsin—Northern Mississippi Region
8.6
Lower
Northwest Wisconsin
10.8
NS
State
10.8
Source: IRP tabulations of 2016 American Community Survey data.
Note: NS = Not statistically significant. In this analysis, each region's difference from the state average was assessed as not statistically significant if the 90% confidence intervals for each region's statistics and the state's overall statistics overlap.