Dissertation workshop seeks to increase diversity in poverty studies
June 12, 2017
Contact: Lawrence Berger, lmberger@wisc.edu, (608) 263-6332; Janet Griffin-Graves, jrgriffin-graves@howard.edu, (202) 865-8582
MADISON—In late May, the Institute for Research on Poverty (IRP) at the University of Wisconsin–Madison and the Center on Race and Wealth (CRW) at Howard University introduced an innovative workshop designed to help address the large disparities in doctorate degree attainment among social sciences students of color.
The inaugural session in what will be an ongoing Summer Dissertation Proposal Writing Workshop took place May 21–27, 2017, at Howard University's CRW in Washington, DC, co-led by faculty affiliates from IRP and CRW.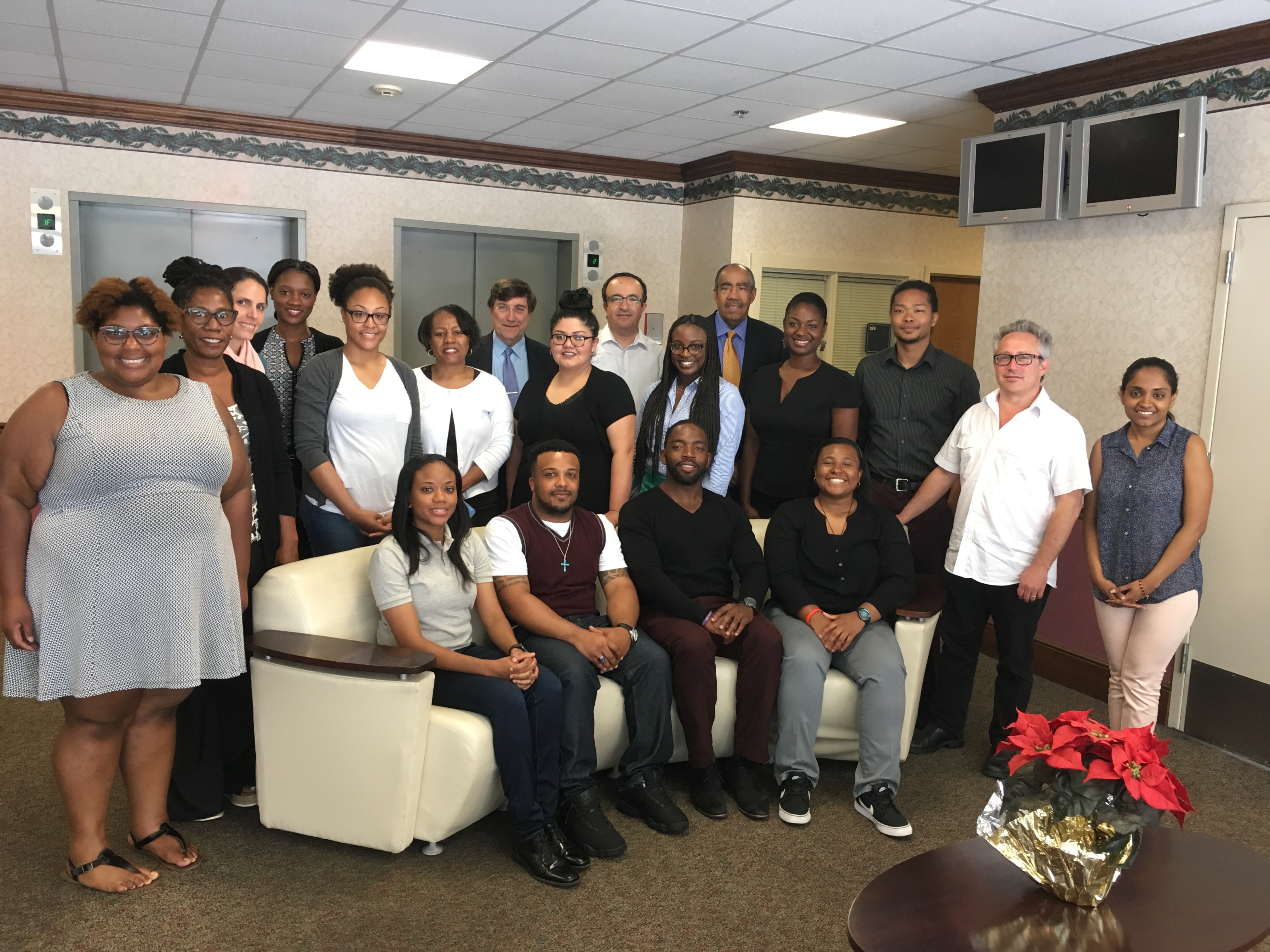 Workshop participants: (Seated L-R): Michelle Dovil, Howard University, Sociology and Criminology/Sociology; Ed-Dee Williams, University of Michigan, Social Work and Sociology; Jarrett Davis, Cleveland State University, Urban Studies/Transportation; Tierra James, Kent State University, Sociology; (Standing L-R): LaToya Council, University of Southern California, Sociology; Judith Williams, Florida International University, Global and Sociocultural Studies/Cultural Anthropology; Sarah Halpern-Meekin, UW–Madison; Tennecia Dacass, Kansas State University, Economics; Erica Banks, Northwestern University, Sociology; Janet Griffin-Graves, Howard University; Rodney Green, Howard University; Julia Gutierrez, Arizona State University, Gender Studies; Haydar Kurban, Howard University; Ashley Smith, UW–Madison, Educational Policy Studies; Charles Betsey Howard University; Ajenai Clemmons, Duke University, Sanford School of Public Policy, Political Science Concentration; Andrae Banks, Washington University in St. Louis, Social Work; Lawrence (Lonnie) Berger, UW–Madison; and Marcy Jagdeo, Howard University, Economics.
Not Pictured: Antoine Lovell, Fordham University Graduate School of Social Service, Social Work; and Kimberly Harper, Howard University Graduate School Arts & Science, Political Science/Technology Policy.
Over 80 students from universities across the country representing a broad range of social science disciplines and poverty-related areas of study applied for the training, which provided 14 competitively selected graduate students from underrepresented populations with the skills, knowledge, and resources needed to prepare a competitive dissertation proposal.
The workshop seeks to address the lack of Hispanics/Latinos, American Indians/Alaskan Natives, and African Americans among PhDs in the social sciences found in a 2015 National Science Foundation survey.
Participants are mentored in preparing a rigorous dissertation proposal, including crafting a clear problem statement, purpose, research questions, and hypotheses; writing a succinct literature review; strong methodology section, which describes the research design and its rationale; and clear, logical, and feasible empirical strategy.
The training includes diverse research methods, formulation of research questions and associated hypotheses, databases and their construction and availability, and quantitative and qualitative methods for hypothesis testing.
By the end of the workshop, the participants have planned their research proposal and received feedback from faculty to refine it for the purposes of seeking funding or developing their dissertation.
Workshop faculty in 2017 were Lawrence Berger, IRP Director and Chair of the School of Social Work Doctoral Program; Charles Betsey and Rodney Green, CRW Codirectors and economics faculty; Sarah Halpern-Meekin, UW–Madison Department of Human Development and Family Studies; Janet Griffin-Graves, CRW Program Director; and Haydar Kurban, Howard University Department of Economics.
Berger, a nationally recognized scholar whose research focuses on the ways in which economic resources, sociodemographic characteristics, and public policies affect parental behaviors and child and family well-being, was thrilled with how well the workshop went.
"The Institute for Research on Poverty is expanding our efforts to create a more level playing field for students of color in the social sciences with the goal of increasing diversity in poverty studies and policy. This workshop and partnership with CRW are important parts of those efforts," Berger noted.
Participants' reviews suggest IRP and CRW are on to something. One participant said the experience was "transformational"; another that the "sharing of knowledge, experience and expertise was invaluable"; and that the natural kinship between the visiting students was a vital part of making this an incredible experience"; and another said the "constructive criticism and innovative ideas received from such an informed group of academics has certainly added value to my research."
Planning is underway for another workshop in May 2018.
#####
—Deborah Johnson, deborah.johnson@wisc.edu, (608) 262-7779